* We Strive to make every one of our designs the most comfortable furniture on the market!
* It is not affected by chlorine or bromine.
* Never needs painting, staining, or sanding.
* Does not rust, peel, splinter, stain or fade.
* Protected from ultraviolet rays for 30 to 35 years.
* Our furniture is designed specifically for Resorts, Motels and Waterparks, and is backed by a 10-Year Frame Warranty. Many of our customers have
had our product in a commercial setting for 15 years or more.
* The porous structure of the cushion, stuffing and sling allow water to go right through so you avoid mold or
mildew problems.
* The polyester stuffing also allows the cushion to breathe so it will stay cool, and it won't stick to you on hot days.
* Cushions and slings are vinyl coated for long life and color retention.
* All cushions have zippers for easy access to the polyester filling.
High Bar Set

42" High Bar Table
Shown with custom bent back high bar chairs and umbrella
Click on the product to enlarge


Northwoods Set

32"X32" Black Table
Shown with Northwoods Chairs-Black Frame
Click on the product to enlarge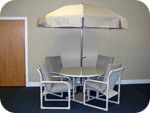 Custom Club Set
48" Custom Club Set
Shown with Umbrella
Click on the product to enlarge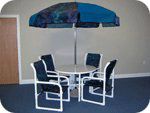 BeachSet

42" Beach Set
Shown with Umbrella
Click on the product to enlarge

Picnic Table
42" Square Table W/Strap Seats
Click on the product to enlarge