Product Details




* It is not affected by chlorine or bromine.




* Never needs painting, staining, or sanding.




* Does not rust, peel, splinter, stain or fade.




* Protected from ultraviolet rays for 30 to 35 years.


* Our furniture is designed specifically for Resorts, Motels and Waterparks, and is backed by a 10 Year
Warranty, the longest in the industry. Many of our customers have had our product in a commercial setting
for 15 years or more.


* The porous structure of the cushion, stuffing and sling allow water to go right through so you avoid mold or mildew problems.




* The polyester stuffing also allows the cushion to breathe so it will stay cool, and it won't stick to you on




hot days.




* Cushions and slings are vinyl coated for long life and color retention.


* All cushions have zippers for easy access to the polyester filling.


** The LYNKRIS Custom Cushion Line offers a bent or straight back club chair for outstanding comfort and a dining chair which is great for a restaurant or snack bar. Smooth frames available in white, almond, gray, bronze, black. Fluted frames available in white, almond, gray and black. Cushions and slings are available in a number of solid colors and patterns.





Custom Straight Back Chair
Model Number: 300-1100


Shown with Gray Frame, 344P Cushion


Click on the product to enlarge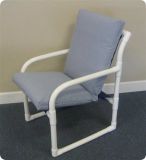 Custom Bent Back Chair
Model Number: 300-1105
Shown with White Frame, 461T Cushion
Click on the product to enlarge








Custom Bent Back Chair
Model Number: 300-1105
Shown with Black Fluted Frame
,
310T Cushion
Click on the product to enlarge




Northwoods Low Back

Model Number: 300-1113
Shown with Gray Frame, 213T Sling

Click on the product to enlarge
Beach Chair
Model Number: 300-1120
Shown with White Frame, 344P Sling
Click on the product to enlarge






Sun Chair
Model Number: 300-1121


Shown with Almond Frame, 219T Sling


Click on the product to enlarge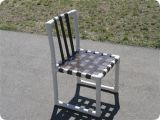 Callahan Dining Chair
Model Number: 300-1129
Shown with Almond Frame, Brown Strap
Click on the product to enlarge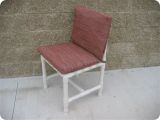 Custom Dining Chair
Model Number: 300-1130
Shown with Almond Frame, 460T Cushion
Click on the product to enlarge

Custom Straight Back High Bar Chair
Model Number: 300-1135
Shown with Black Frame, 361P Cushion
Click on the product to enlarge





Life Guard Chair
Model Number: 300-1143
Shown with White Frame, 203T Sling
Click on the product to enlarge








High Bar Stool

Model Number: 300-1155
Shown with Gray Frame, 341-P Cushion
Click on the product to enlarge




Bar Stool Fiberglass Seat
Model Number: 300-1165


Shown with White Frame


Click on the product to enlarge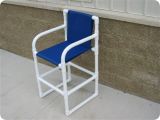 Northwoods High Bar Chair
Model Number: 300-1180
Shown with White Frame, 102-T Sling
Click on the product to enlarge







Beach High Bar Chair
Model Number: 300-1185
Shown with Almond Frame, 340-P Slling
Click on the product to enlarge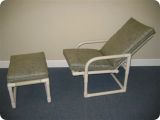 Recliner Chair
Model Number: 300-1190
Ottoman
Model Number: 300-3010
Shown with Almond Frame, 442P Cushion
Click on the product to enlarge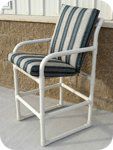 Custom Bent Back High Bar Chair
Model Number: 300-1140
Shown with Almond Frame, 310T Cushion
Click on the product to enlarge